Slovakia's Automotive Industry: Blessing or Curse?
Reading Time:
6
minutes
Slovakia has been a great beneficiary of automotive industry expansion in recent decades. However, its high exposure to the global car market, and the ongoing far-reaching transformation of the industry may endanger the country's outlook in this regard and reveal weaknesses in Slovakia's economic growth model.
"This is a fate of small countries," said the Prognostic Institute of the Slovak Academy of Sciences' Vladimír Baláž in an interview. "Smaller countries will always be vulnerable, especially those oriented toward export, such as Slovakia. While, that dependency is a fact of life, the character of the dependency is more important. In this sense, cars are better than, say, tourism. The car is a complex product, that is it will always be in demand globally. Also, there are a lot of subcontractors and secondary sectors linked to it."
Politicians and experts have long been aware and even warned of the overrepresentation of the auto industry in the Slovak economy and therefore its high exposure to the sector's volatility. Indeed, the car industry's share in the country's GDP amounts to 12-13%. For Hungary, that's around only 3-4%, 8% for Poland, automotive makes up 7.4% of the Czech economy. For Slovakia, the sector contributes 43% of the country's industrial output, and takes a 46% share of its exports. It is widely known that Slovakia is the world's largest producer of cars per capita, with over 1 million cars manufactured in a country of 5 million people (in 2018 and 2019).
However, the recent economic crisis caused by the pandemic and, more importantly, developments in the automotive industry – primarily electrification and automation – have highlighted the risks of being overly exposed to a single industry and market, and may reveal deficiencies in Slovakia's economic policy.
In the grip of electrification and the pandemic
The pandemic exposed car manufacturers' vulnerabilities to global value chains. In the last few years, car manufacturers have worked hard on keeping stocks, and therefore storage costs, as low as possible, but last year three of the four major automotive plants in Slovakia had to partially halt their production due to global scarcity of chips and semiconductors.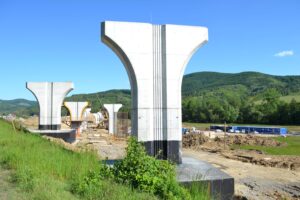 Nonetheless, the industry was already in recession before the pandemic. Trade wars between the USA and China, and the USA and the EU, changing consumer behavior, and strict and ever-stricter emissions regulations in the EU had already resulted in the loss of more than 500,000 auto industry jobs globally back in 2019. Volkswagen laid off 3000 workers in its Bratislava plant in that year, the first redundancies in the country's auto industry in a decade. According to the German Association of Automotive Industry (VDA), a total of 600,000 jobs are under threat due to the adaptation to electric mobility in Germany. In defense of German workplaces, the IG Metall union wants job cuts to be made outside of Germany, in Slovakia, or Eastern Europe. In a "Moratorium on Fair Change," the German trade union explicitly calls for "strengthening Germany as an industrial location through transformation."
The European Union is pushing for an acceleration in the shift to electric mobility by imposing ever-tightening restrictions on emissions. The "Euro 6d" emission standard having come into effect this January poses a challenge to the fossil-fuel car industry that some industry professionals think it will be unable to meet. The Euro 7 emission norm to take effect as of 2025 – which will be applicable to both diesel and petrol engines and is expected to reduce carbon monoxide emissions to 0.1-0.3 g / km and nitrogen oxides to 0.03 g / km – could even put an end to petrol-burning cars. Their production looks to become excessively costly, pushing car prices even higher. According to one study, electric vehicles in Europe might be cheaper than fossil-fuel cars somewhere between 2025 and 2027.
Higher prices and the pandemic have already made their impact on the car market. New car sales sank by almost a quarter in 2020, and 21% in the first months of 2021, year on year, in Europe, where most of the cars produced in Slovakia are sold. However, the European car market seems to have reached its nadir and the first quarter of 2021 brought a 3.2% increase year on year.
Cars will boost Slovakia's economy once again, but risks need to be addressed
Looming risks due to overexposure to the automotive industry have not prevented the Slovak car industry and, along with it, the country's economy from thriving so far. Indeed, Central Bank Governor Peter Kazimir stated that the 5.6% GPD growth projected for this year in Slovakia was due to the faster-than-expected recovery of auto manufacturing in Slovakia.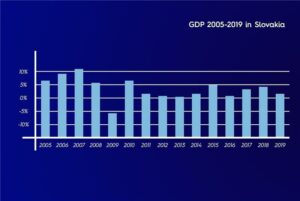 In 2010-2017, value added in current prices generated by the automotive sector increased the fastest in Poland (by four-fifths) and Slovakia (by 78%). The Slovak automotive industry recorded the highest growth in the number of enterprises, gross output, value-added, employment, labor productivity, and compensation. It also generated almost EUR 4 billion in household income and induced almost 10% of total household consumption in Slovakia. According to an OECD Economic Outlook study, Slovakia was set to become the fastest-growing developed economy in the world in 2019 and 2020. To justify that projection, the study said, "significant new capacity in the automotive sector," most notably the arrival of British car-maker Jaguar Land Rover, "will boost export performance."
On the other hand, an OECD Economic Survey on Slovakia 2019 warns that Slovakia's business model and role in the global value chain will become increasingly unsustainable. It says that "Slovakia's strong productivity growth has arisen from joining global value chains, mainly in labor-intensive segments, such as car assembly," but "to sustain its economic progress Slovakia will have to move beyond this approach." The survey continues, pointing out that Slovakia's integration into world trade has remained for a large part based on downstream activities of value chains that incorporate little domestic value-added, such as the assembly of imported intermediate goods.
Where are the EVs?
At present, Slovakia lags in electric vehicle production. The aspirations of the four main car manufacturers there – Volkswagen, PSA, Kia and Jaguar – however, make for optimism. They all have plans to start electronic car manufacturing in Slovakia. Kia plans to produce 1 million environmentally-friendly vehicles by 2026, PSA Peugeot Citroën produced its highest ever number of Peugeot e-208 models last year, and Volkswagen has also communicated its electromobility ambitions. Meanwhile, Slovak firms have tabled five projects in the area of electric batteries to be included in a list of "Important Projects of Common European Interest." Backed by government support of EUR 5 million, the Slovak InoBat Auto firm, in cooperation with the US company Wildcat Discovery Technologies, has already started building the country's first electric car battery factory in Voderady and the first cells are to be produced this year.
To mitigate the risks that Slovak economic policymakers have long been aware of, and to enhance the benefits of automotive industry expansion, the Slovak governments of the last two decades encouraged major car manufacturers to cooperate with local suppliers and thus become an integral part of the country's economy. As a result, one employee working in motor vehicle manufacturing generated six additional jobs in 2013 in Slovakia. Having realized that around half of the price of a modern car stems from electronic devices, the local economic policy also placed great emphasis on supporting electronics companies. Slovak policymakers were also aware of the importance of engineering and IT education for professionals and thus their training was also strengthened and increased.
Playing catch-up
Despite all these efforts and achievements, according to an OECD study (and consensus from many economists), Slovakia has to do a lot more to catch up with the transformation of the auto sector which it is heavily reliant on.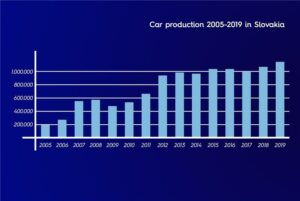 First of all, Slovakia needs to invest much more in R&D. Despite the fact that private research and development funding has doubled over the last 10 years in Slovakia, it falls far behind both Czechia and Hungary. Though producing far fewer cars than Slovakia, the Hungarian government spends twice as much on R&D as Slovakia does. Considering private R&D funding (mostly by Audi), which significantly exceeds government support, this difference is even bigger. Meanwhile, Slovakia ranks only 21st on the European Innovation Scoreboard.
It is no accident that Slovakia's foreign minister, Miroslav Lajcak, called on companies to invest more in research at last year's annual meeting of the World Economic Forum in Davos, where he stated "We don't want to be seen as a place where only the parts are put together." The previously cited OECD country report puts it quite frankly: Slovakia "needs to develop its own capacity to innovate and adopt new technologies" as "low research and development expenditure limits productivity growth going forward." The study also warns that "the decline in educational performance must be reversed," otherwise "skills shortages may deter future investments."
Slovakia has been a beneficiary, perhaps the greatest beneficiary of the productivity and income boom the automotive industry could provide in the last three decades. The country still has excellent foundations to leverage the legacy it has earned in car manufacturing. If capable of coping with the challenges posed by the rapid transformation of the automotive industry, Slovakia can continue its outstanding economic success story. But for this to happen, the country must transition into a more mature, digitalized economy that is not solely reliant upon the automotive industry but technology innovation in general.