Europe mulls policy responses, as soaring gas prices expose energy vulnerabilities
Reading Time:
4
minutes
French President Emmanuel Macron underlined that energy policy is now a major priority for Europe when he met the leaders of the Visegrad Four countries – Poland, Czechia, Hungary and Slovakia – in Budapest this week. Hungarian Prime Minister Viktor Orban agreed that securing Europe's energy independence is one of the three strategic goals that he and Macron agree on, despite their differences in other policy areas.
Citizens must be protected from the burden of rising energy prices, Macron underlined, while Polish Prime Minister Mateusz Morawiecki claimed that high gas prices are partly due to political manipulation, something which the European Commission should address. After the summit, all five premiers agreed that nuclear energy must play a key role in any European energy strategy.
Soaring gas prices shot energy high on the agenda
Gas prices have rocketed by 500% in Europe since the turn of the year, and reached an unprecedented EUR 119 per megawatt-hour in December. Since natural gas represents around a quarter of the European Union's energy consumption, its price is closely linked to electricity prices. The energy price spike has contributed to soaring inflation rates of 3.4% in the EU, with inflation for energy prices exceeding 17% in October. This huge upswing has led to countries including Austria and Spain being forewarned of a possible blackout in the event of a harsh winter.
Opinions are divided on the reasons for the development of this situation. Demand for gas in economies recovering from the pandemic has categorically risen. It is also undoubtable that gas storage capacities are deadfully inadequate in many countries and are predicted to be at 15% in Western Europe by the end of the winter. Storage levels plummeted mainly because the unusually high prices seen in the summer prompted companies to sell rather than store gas.[i] This could be a serious problem for the bloc in the event of a prolonged cold snap, according to EU gas network operator group ENTSO-G.
Countries differ in terms of energy mix
European countries are currently divided over the required response to climbing energy prices. Italy and Spain favour a common European strategic gas reserve and the joint procurement of natural gas. Others, such as Hungary and Czechia want to rethink the EU's Emissions Trading Scheme mechanism. For its part, France wants to reform the European energy market's pricing mechanism.
The energy mix across the bloc varies significantly, with some member states using advanced renewables while others depend on fossil fuels, the majority of which come from non-EU exporters, Finland's Finance Minister Annika Saarikko noted when European ministers met in Luxembourg in October. France meanwhile warned that the costs associated with a green transition will turn energy prices into a key political issue in the coming years.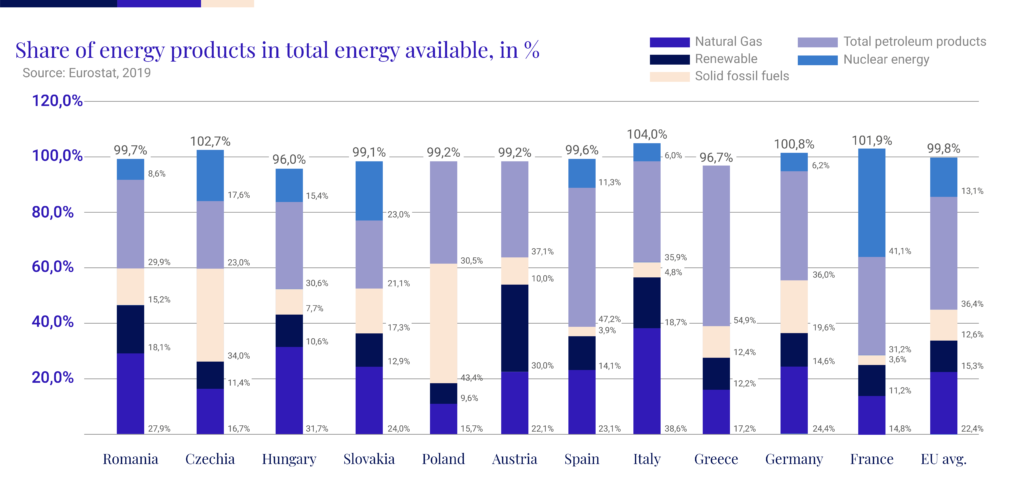 Countries in Central and Eastern Europe differ in their levels of exposure to natural gas. Hungary, Slovakia, and Romania rely on gas most, although their dependency on imports varies: while Romania procures over a third of its gas, Slovakia is nearly 100% dependent. Hungary imports around 90% of its oil and natural gas, much of it from Russia. The country recently struck a 15-year gas supply deal with Gazprom, arousing the indignation of Ukraine as the arriving gas will circumvent it.
The Czech Republic produces only 3% of the crude oil and 1% of the natural gas it consumes, importing the rest, and mostly from Russia. Poland imported about 60% of its gas from Russia in 2020, only for its energy giant PGNiG to reject an extension of its contract with Russia's state-owned Gazprom that expires in 2022. PGNiG plans to replace Russian gas with liquefied natural gas (LNG) from Qatar and the US while also importing gas from Norway via the planned Baltic Sea gas pipeline.
Divided over response but all fall on state intervention
Faced with this sharp spike in energy prices and unfolding discourse over possible responses, the European Commission (EC) issued a communique on the principles of state intervention on energy prices. In the short run, according to the EC, shielding vulnerable groups from the effects of sudden price fluctuations currently overrides the imperative for the transition to a decarbonised economy or non-interference in market dynamics.
The EC recommends vouchers or partial bill payments, temporary bill deferrals, targeted tax-rate cuts for vulnerable households, and the provision of aid to companies and industries. However, the EC's recommendations did not endorse state regulation of retail prices, as Hungary, Poland, and Romania have implemented.
New measures in Poland prop up the most vulnerable 20% of households to the tune of 700 zlotys (EUR 150) per year. Hungary is regulating its energy prices below cost has put a temporary price ceiling of EUR 1.30 per litre on petrol and diesel. In Czechia, electricity and gas have been exempted from VAT and the government has announced that energy fees will not have to be paid for electricity from renewable sources. Romania is also subsidising its most vulnerable consumers and supporting household energy-efficiency programmes. The Romanian government has also brought in compensation measures for energy bills to be at least part-financed by a tax on producers. This will run for five months, from 1 November to 31 March, and will support around 85% of the Romanian population.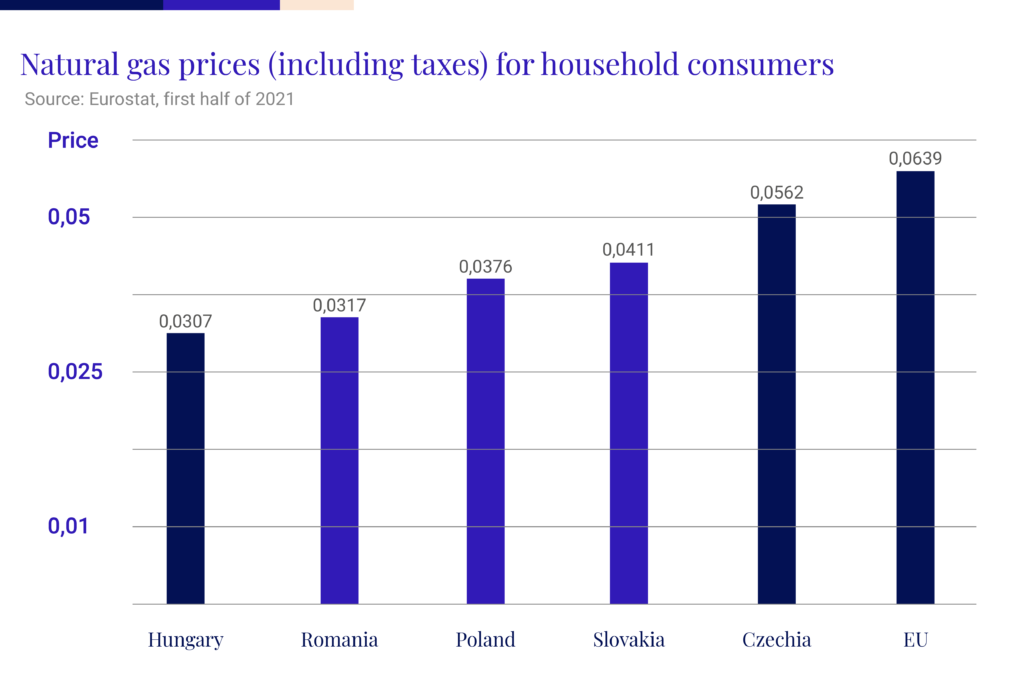 The EC is meanwhile warning that an overreaction to the current price rises could jeopardise medium-term green-energy-transition goals, and Commissioner Paolo Gentiloni has urged only targeted and temporary actions. Nonetheless, projections show gas prices as peaking at around EUR 130 in April before a dip in the spring or summer when supply will eventually return to normal.
---
[i] Current EU gas storage levels are slightly above 75%. Although storage levels have been steadily rising since the summer, this is below the ten-year average of 90% for this time of year.