Scholz says 'centre of Europe is moving eastwards' on Prague visit
Reading Time:
4
minutes
German Chancellor Olaf Scholz emphasised the urgency of accession for aspiring EU members in Central and Eastern Europe (CEE) when he met with Czech Prime Minister Petr Fiala in Prague. Scholz also laid out his pan-European policy vision regarding energy, defence, trade, natural resources and migration.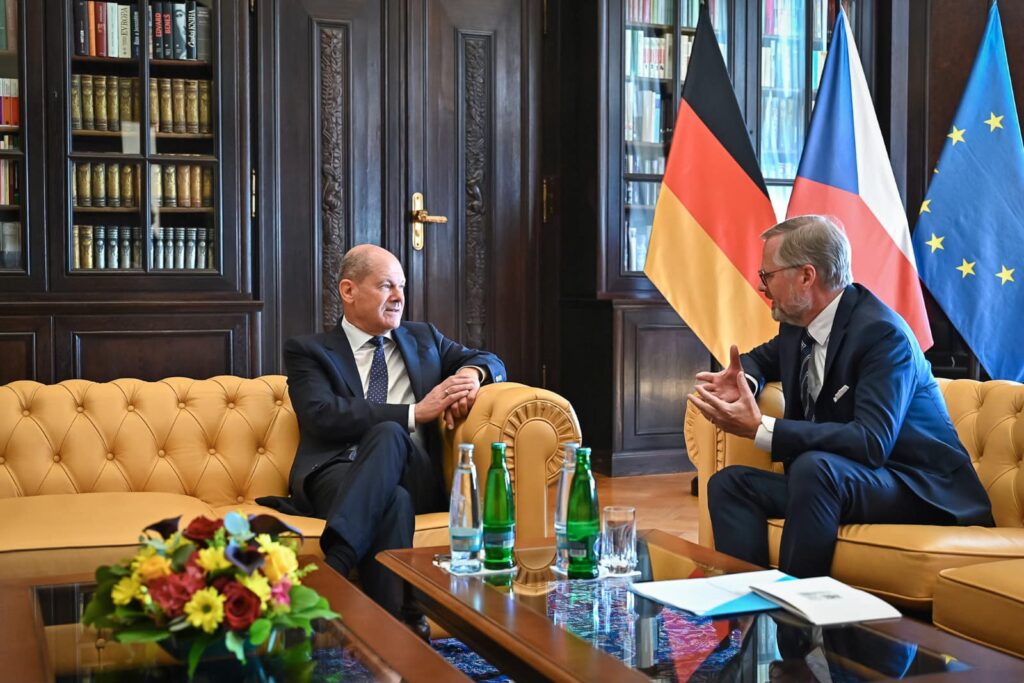 "The centre of Europe is moving eastwards," German Chancellor Olaf Scholz said as he backed 9 countries to join the EU-27 on his recent visit to Prague on Monday. In a speech that frequently referred to CEE, Scholz committed to EU enlargement to include the six Western Balkan countries as well as Ukraine, Moldova, and Georgia "down the line".
"Their EU accession is in our interest. Together, we stand the very best chance of helping to form and shape the 21st Century in our own European vein, as a European Union of 27, 30 or 36 countries," Scholz said.
"We have given our accession candidates our word, and, in the case of the countries of the Western Balkans, that was almost 20 years ago. And these words must be followed by deeds at long last.
"Realpolitik must mean involving friends and partners with shared values. In this expanded Union, the differences between the member states will grow as far as political interests, economic clout and social security systems are concerned. Ukraine isn't Luxembourg, and Portugal views the challenges of the world differently than North Macedonia," he added.
Scholz backs Fiala on EU energy price cap
"We are working more closely together in the area of the energy supply. Just a few weeks ago, we adopted European reduction targets for gas consumption," Scholz said, adding that "we are building up alternative capacities for importing liquid natural gas and crude oil, and we are doing this in a spirit of solidarity – also by thinking of the needs of land-locked countries."
On electricity, Scholz suggested creating a grid and storage infrastructure for an internal energy market that supplies Europe with hydropower from the North, wind from the coasts and solar energy from the South, "reliably, both in summer and in winter".
He also backed "the densest possible network" of vehicle-charging points for electric vehicles, and a European hydrogen network. "Only by harnessing hydrogen can the industrial sector be made climate neutral," Scholz underlined. He also expressed support for "investment in new climate-neutral aviation fuels and in the associated infrastructure".
Disunity 'grist to Putin's mill'
Praising the "stroke of good fortune" that Czechia currently holds the Presidency of the Council of the EU, Scholz said "this united Europe was born as a peace project within Europe. Today, it is up to us to continue to develop this promise of peace – by enabling the European Union to safeguard its security".
The German leader pledged his support for Ukraine, and said Czechia will receive 15 Leopard tanks from Germany in return for its donation of 72 Soviet-made tanks to Ukraine.
"Putin's Russia looks set to continue defining itself by opposition to Europe. Any disunity among us, any weakness, is grist to Putin's mill. This is why we're supporting Ukraine as it is under attack… Germany has undergone a fundamental change of heart on this issue in recent months. We will keep up this support… for as long as it takes.
"Our most recent package of arms deliveries alone is worth EUR 600mn. Our objective are modern Ukrainian armed forces that are able to defend their country on a permanent basis," Scholz said.
Germany will support Lithuania with a rapidly deployable brigade and NATO with additional high-readiness forces, Scholz promised. "We are supporting Slovakia in air defence and other areas. Germany will, from the very start, design future air defence in such a way that our European neighbours can be involved if desired – such as the Poles, Balts, Netherlanders, Czechs, Slovaks or our Scandinavian partners," he added
New generation of 'made in Europe' micro-chips.
Scholz rued "the dependencies we have got ourselves into", conceding that Russian energy imports "are a particularly striking example, but they are far from the only one".
Citing the semiconductor shortage, he noted that "much of the lithium, cobalt, magnesium and nickel our businesses so desperately rely on is already here in Europe".
"In every mobile phone, in every car battery, valuable resources are waiting to be tapped. We have already made progress on the chips and semiconductors," he said, highlighting Intel's plans to invest billions in Poland, and Western Europe, which called "a huge step towards a new generation of 'made in Europe' micro-chips.
"Companies like Infineon, Bosch, NXP and GlobalFoundries… are working on projects that will make Europe a world leader in technology", he added.
Schengen zone one of EU's greatest achievements
Scholz concluded that migration must be managed in the long term, "instead of always just reacting to crises ad hoc".
"Firstly, we need more binding partnerships with countries of origin and transit – as equal partners. If we offer workers more legal routes to Europe, there must in return be more readiness on the part of countries of origin to enable their own citizens to return when they have no right to remain.
"Secondly, Schengen is one of the greatest achievements of the EU, and we should protect and develop it. This means, incidentally, closing the remaining gaps. Croatia, Romania and Bulgaria fulfil all the technical requirements for full membership. I will work to see them become full members.
"Thirdly, Europe needs an asylum system built on solidarity and immune to crises," Scholz said in a far-reaching, grandiose speech, in which he referenced Czech writers Milan Kundera and Franz Kafka, as well as the German historian Karl Schlogel.