Pro-NATO PM wins Latvian election, as ethnic-Russian voters shun pro-Kremlin parties
Reading Time:
3
minutes
Latvia's ruling centre-right party Jauna Vienotiba (New Unity) was the clear winner in the country's general elections at the weekend with around 19% of the vote, as Russian minority parties dropped out of parliament, with 99% of the votes counted on Sunday.
The Greens and Farmers Union came second with 12.5% and the newly-formed electoral alliance of centrist regional parties United List was third with 10.9%. Overall eight parties and alliances made it into Latvia's 100-seat Saeima parliament.
Initial voter turnout was 59.4%, higher than the 2018 general election, according to the Latvian Central Election Committee. As well as Russia relations, Latvia's soaring inflation and energy prices were key election issues.
The weekend's results put New Unity and its leader, Latvia's incumbent Prime Minister Krisjanis Karins, in a strong position to form the next coalition and continue with its strong policy positions against Russia in the wake of its invasion of Ukraine on 24 February.
Under Karins, Latvia has been a steadfast anti-Kremlin force both domestically and internationally, and has formed an unofficial bloc with neighbouring Baltic EU member states Estonia and Lithuania, all of which border Russia and joined NATO and the EU in 2004.
Although Latvia's ethnic Russian minority comprises over a quarter of the country's 1.9 million people, none of the parties made the 5% threshold required to enter Parliament.
Support collapsed for the Russian-minority Harmony party, which represents Belarusian and Ukrainian community as well as Estonian ethnic Russians. Harmony garnered only 4.8% of the ballots, less than a quarter of the vote that made it the biggest political party in 2018.
"The Russian voters are migrating across the national line and they are voting for Latvian (parties). This is positive", analyst Filips Rajevskis told Reuters on Sunday.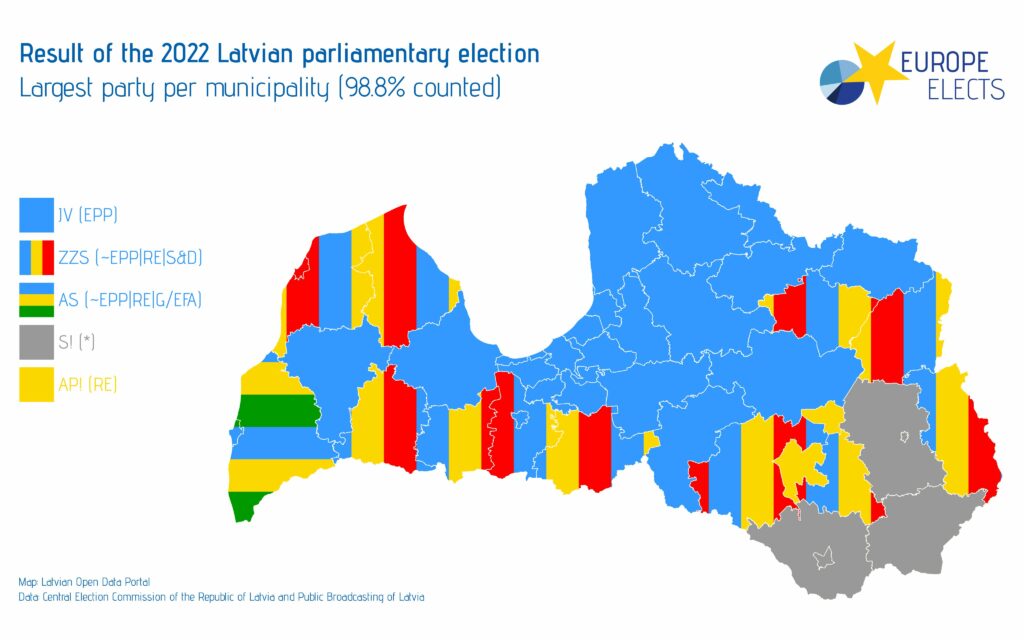 "We are all thinking of how we all get through the winter, not just in Latvia but through the whole EU, and that we all remain united behind Ukraine and do not waiver", Karins said during the election campaign.
US-born dual citizen Karins will now likely head up another coalition government with the centrist Development/For! and centre-right National Alliance, which were both members in Karins' incumbent administration.
Greens and Farmers Union party chairman Armands Krauze told Reuters on Sunday that his party will support Karins' pro-NATO stance. "We think our current foreign policy is very right," he said.
Former Latvian prime minister and European Commission Executive Vice President Valdis Dombrovskis said the result would mean expertise and Atlanticism for the Baltic country.
"Latvia is facing a very complicated geopolitical situation in a context of Russia's aggression against Ukraine," said Dombrovskis, who served as Latvian premier for a party that later merged with two others to form New Unity.
"People voted for experienced political force with a clear Euro-Atlantic course, which can deal and lead a country in this complicated situation," Dombrovskis told a New Unity event in Latvian capital Riga.
Estonia's centre-right Prime Minister Kaja Kallas tweeted on Sunday: "I congratulate my good friend and colleague Krisjanis Karins and his Jauna Vienotiba party on election victory. I look forward to even further strengthening cooperation with the new government of our close neighbour and ally Latvia."
Lithuanian President Gitanas Nauseda looked forward, in a tweet, to "brotherly-cooperation on all matters of strategic importance".